eCommerce Development
We turn complex selling ideas of merchants worldwide into simple eCommerce models that make shopping a fun for customers!!
To meet the complex requirements of our esteemed patrons in terms of functionality, flexibility, and robustness, we being an esteemed eCommerce web development company of India deliver customized eCommerce website design services on different popular ecommerce platforms like Prestashop, Magento, OSCommerce, VirtueMart, Zencart, Opencart, Ubercart, Woocommerce, BigCommerce, Shopify etc. keeping future platform updates & version upgrades in mind.
Our highly skilled eCommerce website designing team of PHP programmers has extensive experience in creating custom extensions, specific modules, and user-friendly shopping cart software by integration of premium eCommerce themes and 3rd party solutions.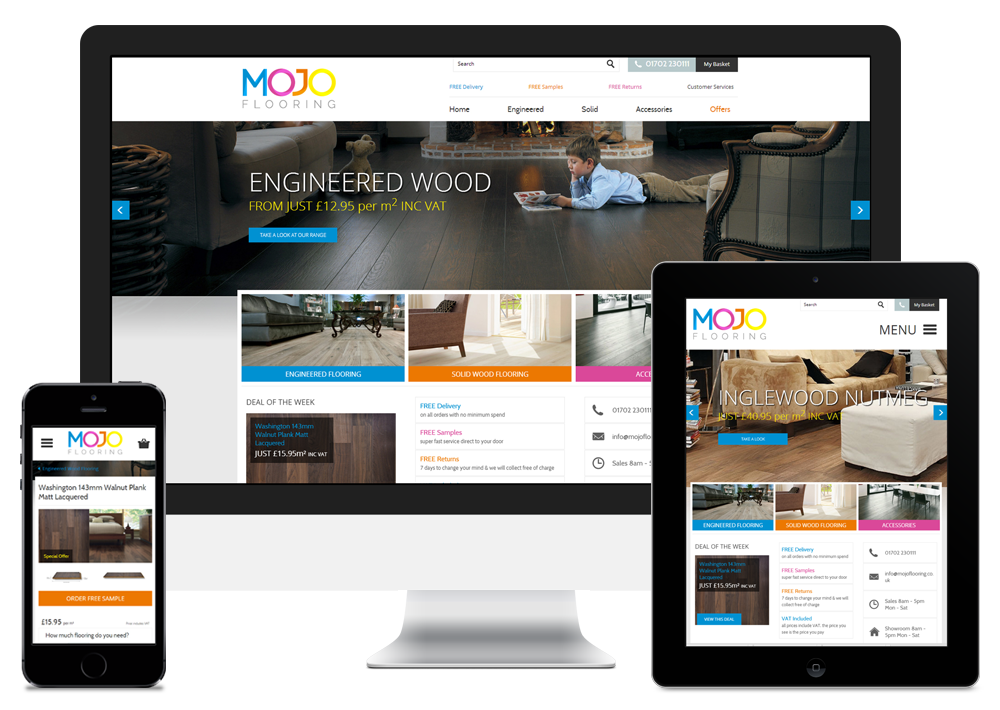 Some features of our content management system:
Front End Design :
Attractive and eye catching front-end design. Unlimited text and photos.
Infinite Category/Sub Category Capability
User-friendly navigation and layout
Shopping cart.
Unlimited number of products
Multiple currencies
Detail page - product descriptions
Send to a friend Functionality
Product listing by price, id or alphabetically
Shipping Calculation Algorithm
SSL & Multiple Payment Gateway Integration
Order Confirmation Emails
Thumbnail and Full size Image View
E-mail Newsletter Sign Up
And Much More!
Back-end Functionality :
Add/Edit/Remove categories, products, manufacturers, customers and reviews
Credit Card Processing functionality.
Order Tracking System enables your customers to view details and status of their orders.
Inventory Tracking Feature: Enables you to track the amount of stock left, low-stock warnings and prevent customers from ordering out-of-stock products.
Support for physical (shippable) and virtual (downloadable) products
Contact customers directly via email or newsletters
Easily backup and restore the database
Print invoices and packaging lists from the order screen
Statistics for products and customers
Multilingual support
Multicurrency support
Customer Tracking
Select what to display, and in what order in the product listing page
Open Source eCommerce Application Development & Customization
With our expert team of dedicated eCommerce Web Developers, we can identify the right open source model suiting to your selling requirements and then implement it with ease after customizing everything- from theme development to premium template integration & shopping cart customization to module integration as per your needs.
Prestashop eCommerce Website Development & Customization
Our Prestashop team of eCommerce web developers ensures to deliver customized websites and web applications using LAMP (Linux, Apache, My SQL, PHP) stack for catering varied requirements of our patrons. In India, as compared with other eCommerce development companies, our team has successfully accomplished challenging PHP projects of ecommerce web design for users across the globe using latest tools and coding practices.
One-click installation
Integrating high-quality eCommerce templates
Configuring shipping options
Setting-up payment processing solutions
Custom module development & integration
Back-end (CMS)customization
Magento CE(Community Edition) Ecommerce Development & Customization
We combine the flexibility of Magento open-source technology (CE) with our deep technical expertise to provide merchants full control over their online store operations. Our Magento Ecommerce Development expertise includes -
Custom Theme Designing & Premium Template Integration
PSD/php to Magento theme conversion
Skinning & Xphp/CSS enhancements
Extensions Development
Magento SEO
OsCommerce Development & Customization
Our professional osCommerce developers carry years of hands-on experience in putting together a feature-rich online store at competitive pricing. We specialize in -
Custom Template Designing
Module integration
Site maintenance
Product Catalogue Design & admin panel customization
Shipping & Payment Gateway configuration
Tracking order status and managing the whole inventory.
Drupal Commerce Development - Ubercart
If you need an online shop that manages both products & site content with utmost ease, Drupal commerce is perfect for you. Over the years, we have delivered some of the most stable, flexible & fast web stores using Ubercart platform that offer enterprise-level scalability.
Drupal commerce theme design & development
Module Integration
Advanced customer management
Integration of payment process & 3rd party external systems
Joomla VirtueMart Development
VirtueMart is an extension of Joomla CMS which is best suited for ecommerce websites targeting low to medium level traffic. Our team specializes in
Custom Joomla programming, front & back end implementation
Site management & maintenance
Woocommerce Development
We are committed to implement and customize the Woocommerce platform to build easy-to-use online stores for you.
Custom Woocommerce theme design
Convert PSDs to Woocommerce templates
Extensions Development & Pre-built module integration
Migration of online shop from any other ecommerce platform
Quality
Guaranteed

Proficient
Designer

Frequent
Update

Great
Support