Graphic Design is all about communicating your message through visuals given form and structure, where by visual information is so as to communicate your unique message and reflect your unique identity.
Graphic design is the process of visual communication and problem-solving through the use of typography, photography and illustration. Graphic design is all around us, in a myriad of forms, both on screen and in print, yet it is always made up of images and words to create a communication goal.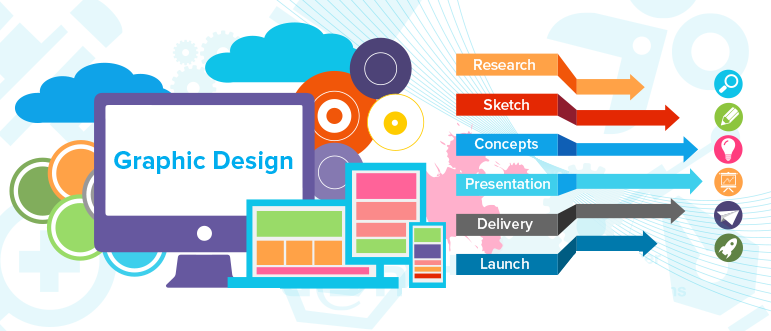 For us every graphic requirement comes as an individual challenge and we push ourselves to the limits to create something which belongs to only you.
Graphic designers combine art and technology to communicate ideas through images and the layout of websites and printed pages. They may use a variety of design elements to achieve artistic or decorative effects.
Graphic design is important to marketing and selling products, and is a critical component of brochures and logos. Therefore, graphic designers, also referred to as graphic artists or communication designers, often work closely with people in advertising and promotions, public relations, and marketing.
Graphic designers work with both text and images. They often select the type, font, size, color, and line length of headlines, headings, and text. Graphic designers also decide how images and text will go together on a print or webpage, including how much space each will have. When using text in layouts, graphic designers collaborate closely with writers who choose the words and decide whether the words will be put into paragraphs, lists, or tables. Through the use of images, text, and color, graphic designers can transform statistical data into visual graphics and diagrams, which can make complex ideas more accessible.
Graphics developed for use on the web are specifically formatted for the internet and designed for visual impact. These graphics for the web may include photos, Flash animation services, illustration, and other forms of media.
If needed, Luke Infotech can also reconfigure your existing print logos for use on the web. We can also design new graphics to be used in print from an existing logos used on the web.
We ensure that graphics created for the web are fast loading, are easy to navigate and enhance your web solutions overall ranking in search engine and directories.
So if you are in need of an outstanding visual tool to convey your unique business message or identity, you can trust Luke Infotech graphic designers to deliver it for you.